Blog post: Sustainability plan update.
Sunday 25 September 2022
Viabuild is committed to sustainability with its own sustainability plan. You can find an update here!
Viabuild is committed to sustainability. We do this by means of our own Viabuild sustainability plan. This plan consists of 17 very concrete actions, enabling our company to take very concrete steps towards a more sustainable policy. Currently, several milestones have already been reached within different actions, which we would like to highlight

Action: Introducing the SDGs within the organisation.
SDG 16
Viabuild's sustainability plan is based on the Sustainable Development Goals (or SDGs for short) of the United Nations. These SDGs provide a better understanding of sustainability as a concept. Every action of Viabuild is therefore linked to one or more SDGs. For this, it is important that our employees recognise these SDGs. Currently, several initiatives are underway to increase awareness.
For example, various SDG poufs have been placed in the Puurs Sint-Amands office and we are also currently organising a sustainability event. This is a fun way for our people at the plants, workplaces and construction sites to get to know the SDGs. First, a presentation is given and then our people get to work with an interactive board where they have to match the meaning of the SDGs with the right icons.
Action: Staff involvement in operational services and "recruitment".
SDG 8 and 10
Our Discovery Journeys are by now a well-known phenomenon within Viabuild. These Discovery Journeys are an initiative where we give our employees the opportunity to visit our plants, workplaces or current construction sites. As a company that values connectedness, this initiative is highly recommended. As you can see in the video below, the previous editions were already a success!
Action: Active guidance and follow-up on training and education (office and construction workers) – Viabuild Academy.
&
Action: Ensure that every employee has the necessary training and competences in line with their tasks and position.
SDG 4
Within our company, we believe it is important to focus on sustainable knowledge acquisition. That is why we are currently in the process of developing a Viabuild Academy. This is an initiative that includes a career development and knowledge centre as well as a training catalogue. In this way, we will be offering various learning initiatives through which our employees can develop their potential.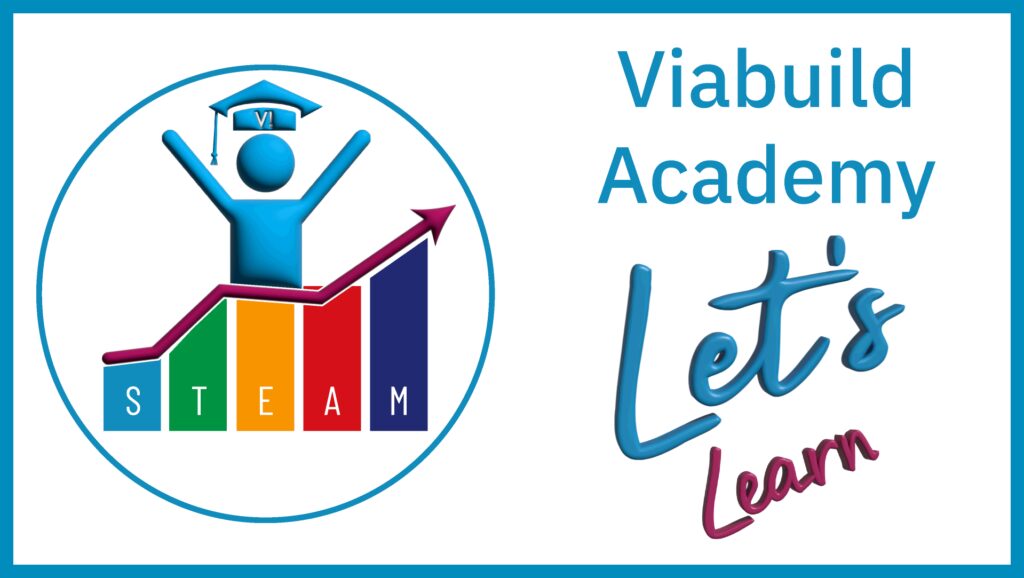 Action: Ensuring the Viabuild mission & values in the organisation by organically growing and evolving young employees into our future teamleaders or executives.
SDG 4
Besides giving our employees tools to develop themselves, we also believe it is important that they can develop themselves on a long-term basis within our company. For this purpose, we came up with our Future Leadership programme. With this programme, we identify potential in our organisation and together the participants go through an interesting & intensive 1.5-year programme. In this programme, they learn to develop their real capabilities and leadership qualities through various training courses and workshops. Eight Viabuilders are currently in the entry stage. One of the first workshops was hosted by the organisation Notice the difference. This leadership workshop included both theory and practice, where our employees were invited to engage with horses. Horses? Yes indeed. According to Notice the difference, successful leadership corresponds to "followers who follow by choice and spontaneously". And there are of course parallels to be found with horses in this context.
Our Viabuilders first held an introduction session where there was a thorough reflection on their leadership skills. Then they headed outside to the fields to perform a number of practices with the horses themselves. First there was an observation exercise where they had to observe together which horse was leading the herd. Then they got to work by themselves to lead the horses past various poles and eventually also needed to make them cross an obstacle. The workshop ended with a critical reflection!
"With our FLP, we base ourselves on our company's own strengths and talents. In this way, we want to give our young lions all the space and resources they need to discover themselves and their competences in order to eventually grow into our new generation of executives."
Stijn Couvreur, Chief Engineering & Procurement Officer
Action: Social and economic inclusion by carrying out international projects.
SDG 3, 10 and 17
We are currently carrying out several international operations. One of these is situated in Ghana, where we are focusing on local recruitment. This way, we offer local people opportunities to contribute to our Viabuild story and also save on our CO2 emissions by not having our own employees fly back and forward.
Action: Maintain and enhance a safe working environment.
SDG 8
Safety remains a top priority within our company. We keep on repeating it but we deem it very important for every Viabuilder to return home safely every day. Therefore, to highlight the S of our STEAM values, our annual Safety week was organised from 12 to 16 September 2022. Each day, one particular topic linked to health and safety was highlighted. This for both our operational and supporting services!
Several toolbox meetings were organised for the executive services with a focus on order & cleanliness, personal protective equipment and the use of small machinery. This year, we also had the pleasure of involving our client Aquafin during this week. In fact, some people from Aquafin made a visit to 4 construction sites we are currently carrying out for them. Here, they interacted with our people and helped check the order and cleanliness on site. This way, there was positive input in both directions and suggestions for improvement!
At the office in Puurs, the emphasis layed on working in good health, with a focus on ergonomics at the desk through an ergonomics workshop where tips and tricks were given. Safety during evacuation was also highlighted again and none other than our own colleague Jessie hosted an AED workshop! The week ended with a sustainability trail for awareness and information: "Together for a more environmentally friendly and sustainable Viabuild".
Action: Reduce the total CO2 emissions/consumption of the Viabuild fleet by 5%.
SDG 11 and 12
Fuel consumption and CO2 emissions have a huge impact on the climate. As much as 75% of our total CO2 emissions at Viabuild come from our liquid fuels. The vast majority is due to our own cars and fleet. Therefore we have an awareness project running in which we try to reduce our C02 emissions by 5 per cent compared to last year. Via a tool, our people can keep track of their own fuel consumption every month and make adjustments where necessary.
Action: Commitment to e-mobility.
SDG 11, 12 and 13
In addition to our efforts to reduce fuel consumption, we as a company are also fully committed to e-mobility and a green car policy. Our office in Puurs Sint-Amands has several charging stations for electric cars.  And our car policy has also just been given a green makeover. It has been transformed into an electric car policy. An addendum was added so that there is now more choice between hybrid and electric cars!
Action: Manage and reduce CO2 by implementing the CO2 performance ladder.
SDG 7 and 13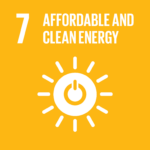 We are currently in the process of achieving the CO2 performance ladder level 3. The CO2 performance ladder is both a measurement tool as well as a certification scheme created by the Flemish government. It enables companies to map their CO2 consumption and thus undertake targeted actions. Companies that score well on this ladder then also receive an advantage in awarding public procurement contracts. We are currently carrying out actions to achieve level 3 (own organisation) and eventually even level 4 & 5 (within own sector and influence outside own chain). Thus, the total CO2 emissions in 2021 were 16,751 tonnes, of which +/- 57% were due to the fleet and rolling equipment. If we all do our part, we can push this figure down.
Action: Investing in a healthy (and secure) working environment.
SDG 3
Within our company, we consider it important to highlight a healthy working environment. We do this by encouraging our Viabuilders to participate in various sports activities.For instance, several colleagues participated in the famous "Dodentocht" edition 2022. Several Viabuilders also participated in the cycling edition of the  "Dodentocht", represented in our own V! cycling outfit.
And speaking of cycling: during our Safety week, a cycling campaign was held where we encouraged our employees to come to work by bike as much as possible. Those who did were given various tips & tricks to keep it safe on the road
Action: Increase ecological value/biodiversity at our sites.
SDG 15
To promote biodiversity and to put SDG 15 "life on land" into practice, we are giving our sites a green make-over. Our office in Puurs Sint-Amands was decorated with many different types of plants. Discover the various kinds and a  before and after difference below!
| | |
| --- | --- |
| ■ 1 Rosa 'Neige d'ete' | 85 st. |
| ■ 2 Lavandula angustifolia 'Hidcote' P9 | 400 st. |
| ■ 3 Cornus sericea ' Kelseyi' Vak | 130 st. |
| ■ 4 Spiraea Jap. 'Anthony Waterer' | 180 st. |
| ■ 6 Miscanthus Grandiflora P11 | 100 st. |
| ■ 5 Rosa 'Neige d'ete' | 240 st. |
| ■ 7 Syringa Vulgaris | 40 st. |
| ■ 8 Ligustrum ovalifolium 60/90 cm | 100 st. |
| ■ 9 Amelanchier lamarckii | 60 st. |
| ■ 10 Buddleja davidii | 45 st. |
| ■ H 1 Fagus Sylivatica 80/100 bw 140m | 700 st. |
| ■ H 2 Ligustrum ovalifoluim 60/90 255m | 1 000 st. |
Before
After
At our asphalt plant in Grimbergen,  we also planted several butterfly bushes.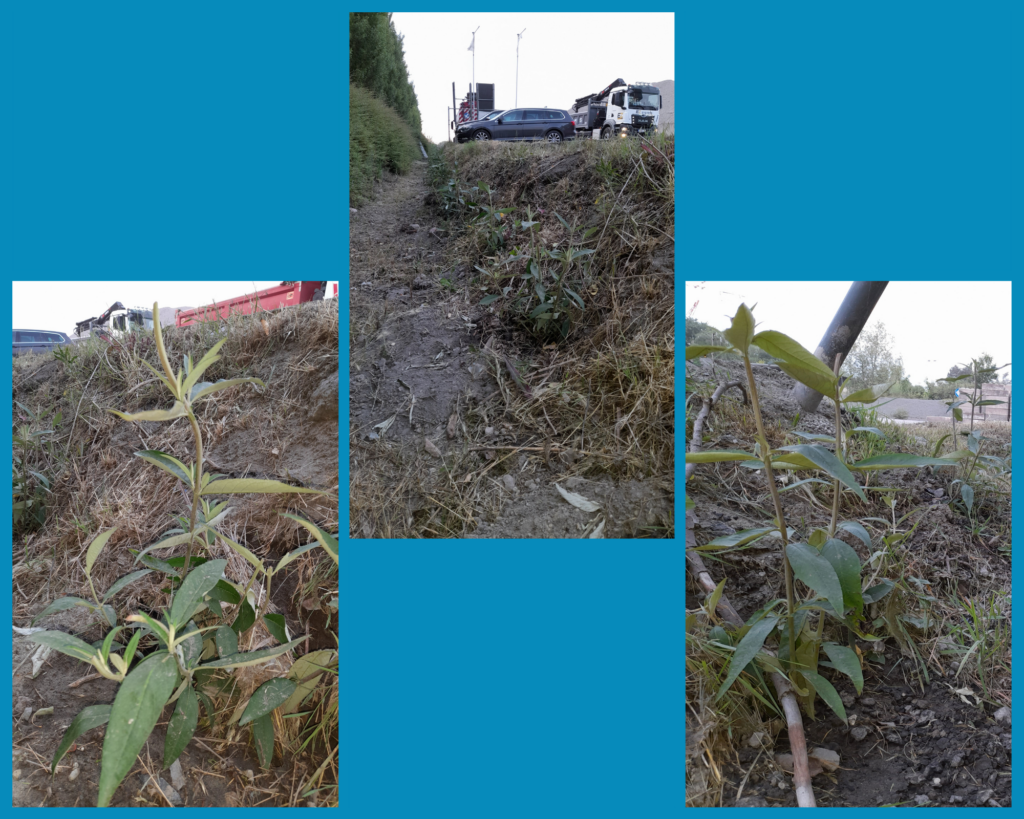 Action: Sustainable water use (Neder-Over-Heembeek).
SDG 12
In September 2022, our new concrete plant in Neder-Over-Heembeek became operational. A challenging project in which the sustainability aspect was taken into account during every step of the plant's construction. This site is nearby the Brussels ring road, located centrally between the A12 highway and the viaduct of Vilvoorde and directly along the Willebroek canal. With a dock more than 200 metres long, we can transport our products and grounds by water using ships of up to 4,000 tonnes. We will thus be able to serve our Brussels construction sites in an extremely efficient and ecological way. We also capture all rainwater and rinse water on site which, after purification, is reused in the concrete plant.
Thus, we are almost completely self-sufficient through rainwater and will only use supplementary water through canal water in an emergency. Our use of tap water is therefore very limited. The plant is also connected to a sustainable high-voltage cabin instead of a power group. Finally, the plant was equipped with charging stations. In this way, we are preparing for the future of electric cars, vans, and who knows in the future even wheel loaders.
Water reservoir concrete plant Neder-Over-Heembeek
23/09/2022