Blog post: Sustainability plan update.
Friday 17 June 2022
Viabuild is committed to sustainability with its own sustainability plan. You can find an update here!
Viabuild is committed to sustainability. We do this by means of our own Viabuild sustainability plan. This plan consists of 17 very concrete actions, enabling our company to take very concrete steps towards a more sustainable policy. Currently, several milestones have already been reached within different actions, which we would like to highlight
Action: Introducing the SDGs within the organisation.
SDG 16
Viabuild's sustainability plan is based on the Sustainable Development Goals (or SDGs for short) of the United Nations. These SDGs provide a better understanding of sustainability as a concept. Every action of Viabuild is therefore linked to one or more SDGs. For this, it is important that our employees recognise these SDGs. Currently, several initiatives are underway to increase awareness.
For example, various SDG poufs have been placed in the Puurs Sint-Amands office and we are also currently organising a sustainability event. This is a fun way for our people at the plants, workplaces and construction sites to get to know the SDGs. First, a presentation is given and then our people get to work with an interactive board where they have to match the meaning of the SDGs with the right icons.
Action: Staff involvement in operational services and "recruitment".
SDG 8 and 10
Our Discovery Journeys are by now a well-known phenomenon within Viabuild. These Discovery Journeys are an initiative where we give our employees the opportunity to visit our plants, workplaces or current construction sites. As a company that values connectedness, this initiative is highly recommended. As you can see in the video below, the previous editions were already a success!
Action: Reduce the total CO2 emissions/consumption of the Viabuild fleet by 5%.
SDG 11 and 12
Fuel consumption and CO2 emissions have a huge impact on the climate. As much as 75% of our total CO2 emissions at Viabuild come from our liquid fuels. The vast majority is due to our own cars and fleet. Therefore we have an awareness project running in which we try to reduce our C02 emissions by 5 per cent compared to last year. Via a tool, our people can keep track of their own fuel consumption every month and make adjustments where necessary.
Action: Commitment to e-mobility.
SDG 11, 12 and 13
In addition to our efforts to reduce fuel consumption, we as a company are also fully committed to e-mobility and a green car policy. Our office in Puurs Sint-Amands has several charging stations for electric cars.  And our car policy has also just been given a green makeover. It has been transformed into an electric car policy. An addendum was added so that there is now more choice between hybrid and electric cars!
Action: Increase ecological value/biodiversity at our sites.
SDG 15
To promote biodiversity and to put SDG 15 "life on land" into practice, we are giving our sites a green make-over. Our office in Puurs Sint-Amands was decorated with many different types of plants. Discover the various kinds and a  before and after difference below!
| | |
| --- | --- |
| ■ 1 Rosa 'Neige d'ete' | 85 st. |
| ■ 2 Lavandula angustifolia 'Hidcote' P9 | 400 st. |
| ■ 3 Cornus sericea ' Kelseyi' Vak | 130 st. |
| ■ 4 Spiraea Jap. 'Anthony Waterer' | 180 st. |
| ■ 6 Miscanthus Grandiflora P11 | 100 st. |
| ■ 5 Rosa 'Neige d'ete' | 240 st. |
| ■ 7 Syringa Vulgaris | 40 st. |
| ■ 8 Ligustrum ovalifolium 60/90 cm | 100 st. |
| ■ 9 Amelanchier lamarckii | 60 st. |
| ■ 10 Buddleja davidii | 45 st. |
| ■ H 1 Fagus Sylivatica 80/100 bw 140m | 700 st. |
| ■ H 2 Ligustrum ovalifoluim 60/90 255m | 1 000 st. |
Before
After
At our asphalt plant in Grimbergen,  we also planted several butterfly bushes.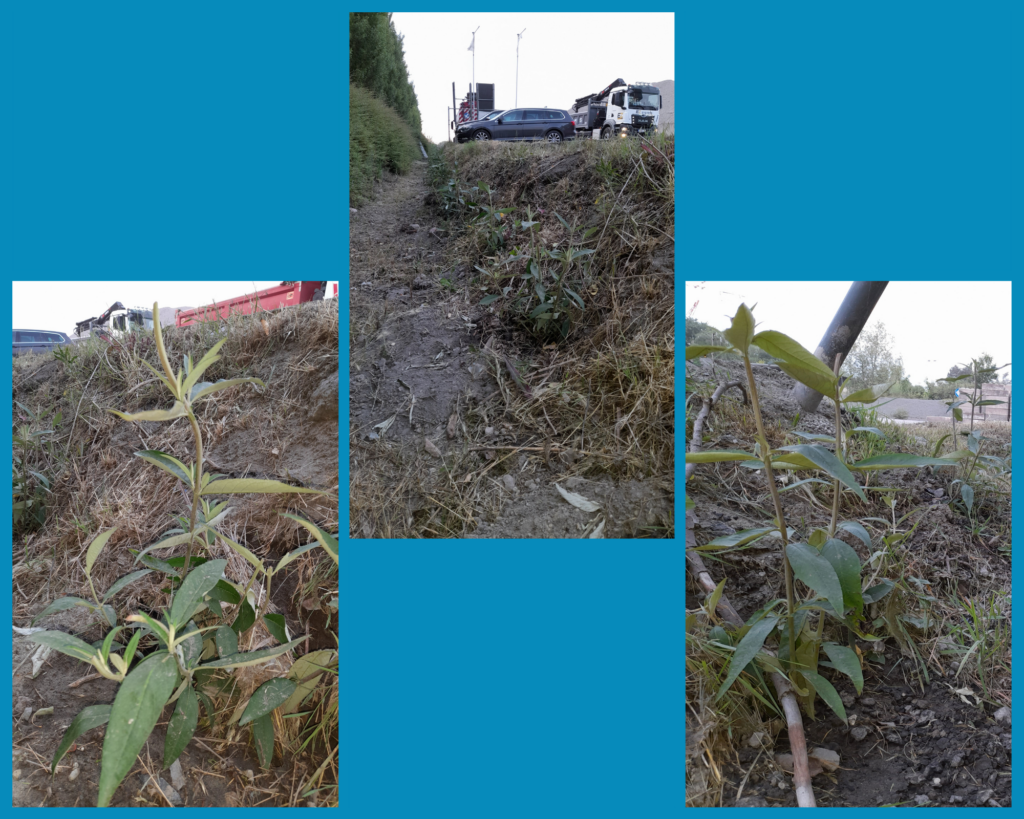 08/04/2022